Anchorage Ramps, Gangways & Bridges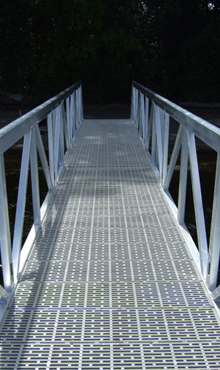 Anchorage Pontoons Limited gangways, ramps and bridges are constructed from structural marina grade aluiminium alloys. 

Our gangway standard range: 
• 0.9 metres wide and up to 12 metres long
• 1.3 metres wide and up to 12 metres long 
(All standard gangways come with an Engineer's Certificate of Loading).

SPECIALS can be designed and built to accommodate almost any situation.

Many high quality decking materials are available-PE / Aluminium / Rubber / Timber

A wide array of Security Gates and Landing Designs are available for non standard installations.

Please ask us about our flat pack and two part ranges which allow easy and cost efficient packing for freight and transport purposes.